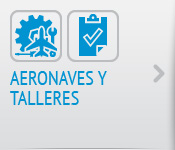 Aviación General
Requisitos
TALLER AERONÁUTICO EXTRANJERO DE REPARACIÓN
REQUISITOS PARA LA CERTIFICACIÓN

FOREING REPAIR STATION – CERTIFICATION REQUIREMENTS
PRIMER CONTACTO - ARANCEL Y MÉTODOS DE PAGO

FIRST CONTAC - FEE AND MEANS OF PAYMENT
Remitir por email, correctamente completo, el Form. DA 8310-3, detallando los alcances solicitados. Para el caso de certificación original, además, deberá remitir el Form. DA 8400-6 simultáneamente. Puede encontrar estos formularios en nuestra página web: www.anac.gob.ar
You have to send by email the correctly fulfilled Form. DA 8310-3, with detailed requested ratings. In case of original certification sent Form. DA 8400-6 at the same time. You can find these forms in our web page: www.anac.gob.ar
Recibido el email anterior, en función de los alcances solicitados, le informaremos el monto a abonar y los medios disponibles de pago.
Ones we receive the email, we will inform you the fees amounts and the way of payments.
APLICACIÓN FORMAL

FORMAL APPLICATION
Remitir por correo el original del Form. DA 8310-3, junto con la constancia de pago del arancel. Para el caso de certificación original, también, el Form. DA 8400-6.
You have to send by mail the blue signed Form. DA 8310-3 and a copy of the fees ticket payment. In case of original certification, you have to send us a blue signed Form. DA 8400-6 too.
DOCUMENTACIÓN

DOCUMENTATION
Remitir una copia electrónica o impresa de la siguiente documentación:
The following documents must be sent in electronic or hard copy:
a) Certificados de Taller Aeronáutico de Reparación y Especificaciones de Operaciones emitidos por la
Autoridad de Aviación Civil local (CAA).
Repair Station and Operations Specifications Certificates issued by the local Civil Aviation Authority (CAA).
b) Manual MTAR/MCC aprobado/aceptado por la Autoridad de Aviación Civil local, controlado y asignado a la ANAC Argentina.
RS&QC Manual approved/accepted by the local CAA, controlled and assigned to ANAC Argentina.
c) Lista de Capacidades de productos Clase II y III, aprobado/aceptado por la Autoridad de Aviación Civil local.
Class II and III Products Capability List, approved/accepted by the local Civil Aviation Authority.
d) Listado de Funciones de Mantenimiento.
List of Maintenance Functions.
e) Lista de Proveedores de Mantenimiento.
List of Maintenance Contractors/Providers.
f) Suplemento ANAC-DA. Le enviaremos una muestra de este documento para ser completado.
Supplement ANAC-DA Manual. A sample copy of this document will be sent to be fulfilled.
INSPECCIÓN DE CERTIFICACIÓN EN LAS INSTALACIONES DEL TALLER

CERTIFICATION INSPECTION IN REPAIR STATION FACILITIES
El Departamento interviniente designará inspectores a los efectos de llevar a cabo dicha tarea. El solicitante deberá proveer a los inspectores designados con:
The involved Department will designate inspectors to perform this task in your facilities. The applicant shall provide the
inspectors with:
a) El arancel asociado al trabajo de auditoría. El monto y la forma de pago le será informado una vez programada la auditoría.
Daily allowance rates for each inspector. The amount and means of payment will be informed once the
inspection be scheduled.
b) Pasajes aéreo ida y vuelta, utilizando la ruta más corta.
Roundtrip airline tickets, using the shortest route.
c) Traslado diario ida y vuelta entre el hotel y las instalaciones del Taller de Reparación.
Daily Round trip between hotel and Repair Station facilities.
d) Traslado ida y vuelta entre el hotel y el aeropuerto.
Roundtrip between hotel and airport.
e) Asistencia/Seguro Médico durante el viaje y estadía de los inspectores.
Medical Assistance / Assurance while the trip and stay of the inspectors.
f) Una persona de habla hispana, para asistencia a los inspectores durante la auditoría.
A Spanish speaker person to assist the inspectors during the audit.
Nota#1: En caso de que por razones de fuerza mayor ajenas al personal de la ANAC, se generen demoras imprevistas (cambios de vuelo por situación meteorológica adversa, cierre de aeropuertos, o cualquier tipo de eventualidad), el solicitante deberá abonar los viáticos y gastos correspondientes.
In case of outside factors to the ANAC personnel that can produce unexpected delays (such as changes of flight by
adverse meteorological situation, closing of airports, or any type of eventuality), the applicant should have to pay the travel allowances and respective expenses
Nota#2: El Taller de Reparación deberá considerar cualquier otro costo adicional de Tasas Aeroportuarias que no estén incluidos en los pasajes aéreos
The repair station must consider any additional cost regarding Airport Rates and Taxes which are not included in air
tickets.
Nota#3: Se debe informar con la mayor antelación posible si su país tiene alguna restricción sanitaria o requisitos específicos de vacunación que deben considerarse.
It must be informed as far in advance as possible if your country has any sanitary restriction or specific vaccination
requirements to be considered.
INFORMACIÓN DE CONTACTO

CONTACT INFORMATION
En caso de necesitar información respecto de cual Departamento se encontrará a cargo de su trámite, deberá contactarse por e-mail a:
I you need information about with Department will be in charge of your process, you should contact by e-mail to:
General Aviation Department
Transport Aviation Department
Toda documentación debe ser presentada en la sede de la ANAC, al Departamento designado:
All documentation must be sent to ANAC offices, to the designated Department:
ADMINISTRACIÓN ANCIONAL DE AVIACION CIVIL DIRECCION DE AERONVEGABILIDAD
Av. PASEO COLON 1452, PLANTA ALTA (C1063ADO) CIUDAD DE BUENOS AIRES REPUBLICA ARGENTINA